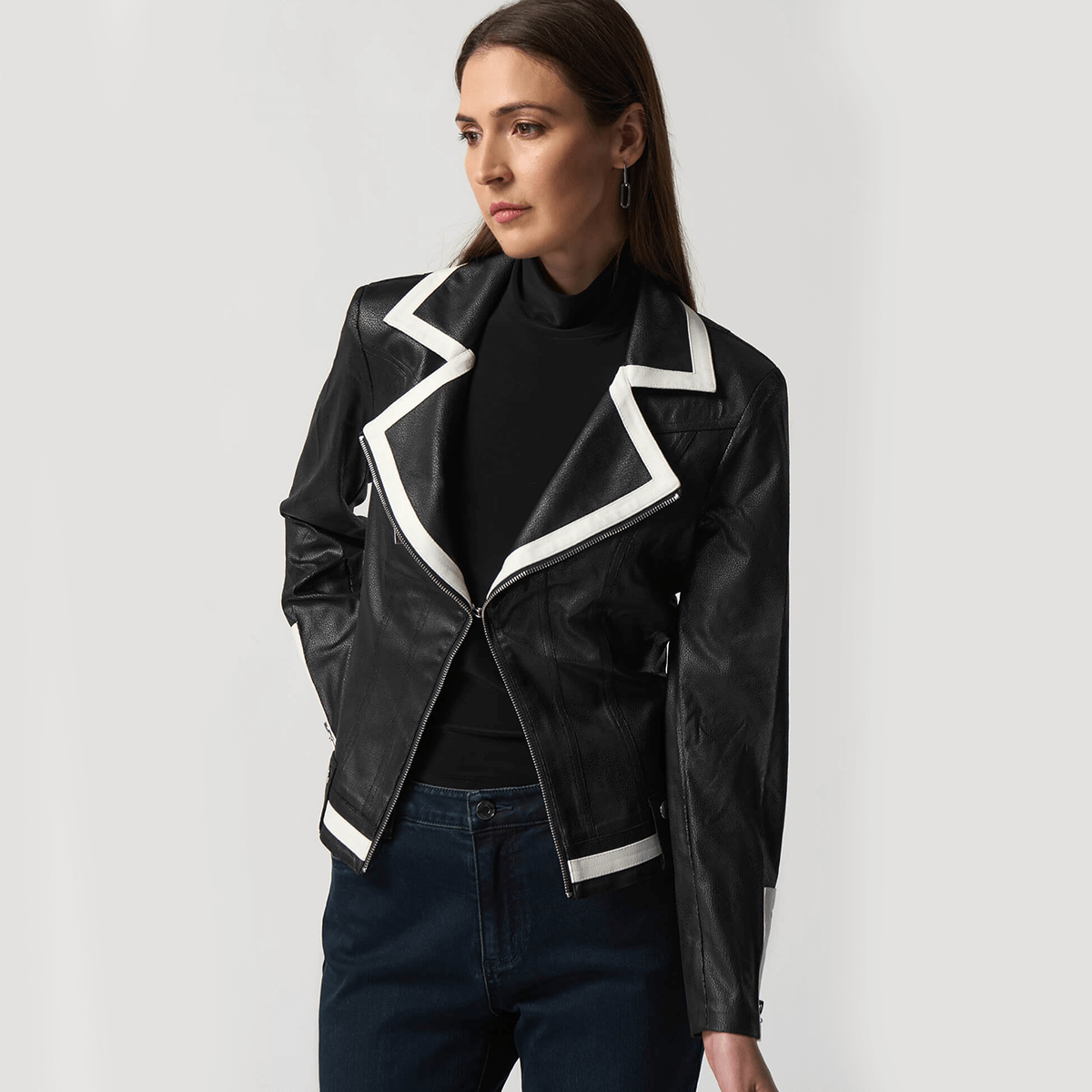 Stay Warm and Stylish This Autumn Winter with Joseph Ribkoff Jackets
Are you ready to conquer the chilly days of autumn and winter in style? Look no further than Joseph Ribkoff jackets! With their impeccable design, quality materials, and a touch of glamour, these jackets will keep you warm and make heads turn wherever you go. Prepare to embrace the colder months with confidence and panache as we reveal the must-have Joseph Ribkoff jackets that will effortlessly elevate your outfit. Stay cosy, stay chic – let's dive into this season's ultimate fashion essential!
Introduction to Joseph Ribkoff and their jackets
Joseph Ribkoff is a renowned Canadian fashion brand that has been in the business for over 60 years. Known for its elegant and stylish designs, the brand has gained popularity among women of all ages across the world. The brand specialises in creating high-quality women's clothing, with a focus on jackets that are perfect for the autumn-winter season.
Founded in 1957 by Joseph Ribkoff himself, the brand started as a small boutique in Montreal, Canada. However, its exceptional designs and attention to detail quickly gained recognition and expanded into an international fashion label. Today, Joseph Ribkoff is sold in over 64 countries worldwide and is loved by millions of women who appreciate chic and sophisticated clothing.
One of the key elements of Joseph Ribkoff's success is their ability to stay on top of current trends while also maintaining their unique style. Their jackets are no exception – they perfectly reflect the latest fashion trends while still being timeless pieces that can be worn year after year.
The brand offers various jacket styles to suit different tastes and needs. From classic blazers to trendy leather jackets, there is something for everyone in their collection. Each piece is carefully designed with impeccable craftsmanship and attention to detail – making them fashionable and long-lasting.
But what truly sets Joseph Ribkoff jackets apart from others in the market is their use of high-quality materials. The brand takes pride in using only premium fabrics like wool, cashmere blend, faux fur,
What makes Joseph Ribkoff jackets unique?
Joseph Ribkoff jackets are known for their unique style and high-quality materials, making them a must-have for any stylish wardrobe. But what exactly sets these jackets apart from others in the fashion market? In this section, we will explore the features that make Joseph Ribkoff jackets genuinely unique.
Attention to Detail
One of the most distinctive qualities of Joseph Ribkoff jackets is the brand's attention to detail. Each jacket is carefully crafted with precision and care, ensuring that every stitch and seam is perfect. No detail is overlooked in creating these stunning pieces, from intricate designs to delicate embellishments.
 
Flattering Silhouettes
Joseph Ribkoff understands the importance of a well-fitted jacket in creating a polished and sophisticated look. That's why each jacket is designed with flattering silhouettes that accentuate the natural curves of a woman's body. Whether it's a tailored blazer or an A-line coat, you can trust that your figure will be beautifully enhanced in a Joseph Ribkoff jacket.
 
Versatility
Another factor that makes Joseph Ribkoff jackets stand out is their versatility. These jackets can easily transition from day to night, making them ideal for all occasions. You can dress them up with a pair of heels and statement jewellery for a formal event or wear them down with sneakers and jeans for a casual outing.
 
Innovative Designs
Innovation is at the heart of Joseph Ribkoff's design philosophy, which is reflected in their jacket collection. The brand constantly pushes the boundaries of fashion and introduces new and unique designs that are ahead of the trends. This progressive thinking is what sets Joseph Ribkoff jackets apart from other brands in the market.
Top trends in Autumn Winter fashion for jackets
When it comes to staying warm and stylish during the colder months, jackets are a must-have in every wardrobe. And with the arrival of autumn and winter, it's time to update your collection with the latest trends in outerwear. In this section, we'll be discussing the top trends in Autumn Winter fashion for jackets that will keep you looking chic and cosy all season long.
Oversized Silhouettes
One of the biggest trends this season is oversized silhouettes. From exaggerated shoulders to boxy cuts, designers are embracing a more relaxed and comfortable fit for jackets. This trend not only provides extra warmth but also adds a cool and edgy vibe to any outfit.
 
Faux Fur
Faux fur has been a popular trend for several years now, and it's not going anywhere anytime soon. This luxurious material instantly elevates any jacket, giving it a touch of glamour and sophistication. Whether it's a full faux fur coat or just accents on collars or cuffs, adding some faux fur to your jacket will keep you cosy while making a statement.
 
Bold Colors
While neutral tones like black, grey, and beige are always classic choices for fall/winter jackets, this season is all about bold colours. Think rich jewel tones like emerald green, sapphire blue, or burgundy red – these shades not only add vibrancy to your outfit but also make a strong fashion statement.
 
Leather Jackets
A staple in any wardrobe, leather jackets are a timeless trend that never goes out of style. This season, designers are playing with different textures to add an edgy twist to classic leather jackets.
How to style Joseph Ribkoff jackets for different occasions
Joseph Ribkoff jackets are not only known for their high-quality materials and impeccable designs, but also for their versatility. With a wide range of styles and colours, these jackets can be styled in various ways to suit different occasions. Whether you are going for a casual daytime look or a formal evening event, here are some tips on how to style Joseph Ribkoff jackets for different occasions.
Casual Daytime Look
For a relaxed and effortless daytime look, opt for a Joseph Ribkoff denim jacket. This versatile piece can be easily dressed up or down, depending on the occasion. Pair it with your favourite jeans and a basic T-shirt for an everyday casual outfit. You can also add some accessories like a printed scarf or statement earrings to elevate the look.
 
Date Night
For a romantic date night, choose a Joseph Ribkoff jacket. Pair it with fitted trousers, skinny jeans, and some heels for an elegant yet sexy look. You can also add some dainty jewellery to enhance the overall look.
Joseph Ribkoff jackets are versatile pieces that can be styled for various occasions. Choose the right style, fabric, and accessories to create the perfect outfit for any event. Whether you want to dress up or down, these jackets will elevate your style and make you feel confident and polished.